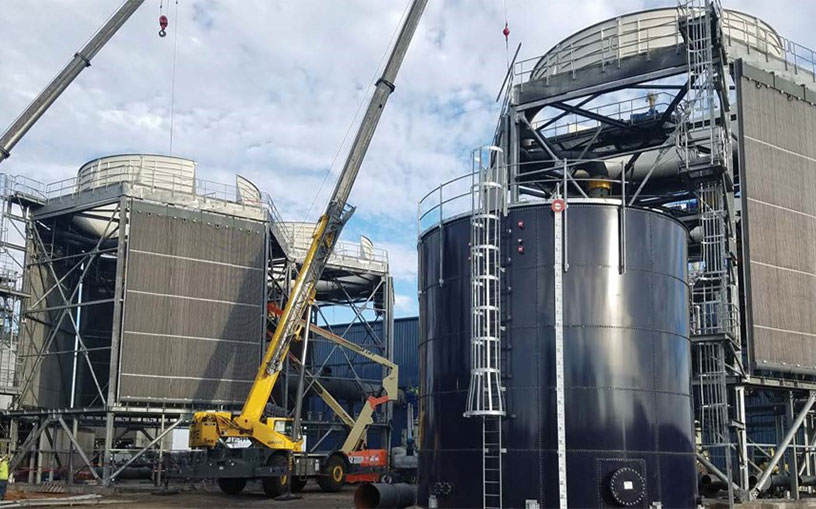 Continental Carbon Company – Ponca City, Oklahoma
Key Project Statistics:
Engineering, Construction Management
29MW Siemens Turbines
High Pressure Superheated Steam
Air Cooled Condensers
RO/DI Chemical Feed System
69/12.47kV Substation
New Building to House Turbines
$60 Million Construction Cost with equipment
Schedule: 8 months Engineering, 18 months Construction
SCADA System and Interface into Existing Emerson/Delta V DCS
ISO Interconnection and Load Shedding
Relevant Experience:
Engineering and Construction of Combined Heat & Power Plant
Black Start Capabilities
Strict Sound Requirement, Neighboring Residential Community
Continental Carbon Company (CCC) pursued a cogeneration project in order to reduce emissions and meet EPA regulations.  This project was a unique cogeneration application.  CCC had high-temperature waste gas with excess emissions from their carbon-producing process.  These emissions were required to be scrubbed to meet EPA regulations.  The process to do this was to put the waste gas through a boiler.  The boiler produced steam while allowing the emissions to be scrubbed.  The boiler produced 150,000 lbs/hour of 800 lb steam.  The steam fed two steam turbines.  The turbines produced 29MW of power which was all consumed on site.
This was a design-build project, with Z&F Construction as the prime contractor and Z&F Consulting as the lead design firm.  Z&F Consulting advanced a design development package from CCC to provide final construction documents.
Z&F Consulting has the experience, knowledge and capacity to successfully complete an assignment in a professional, cost-effective, and timely manner.