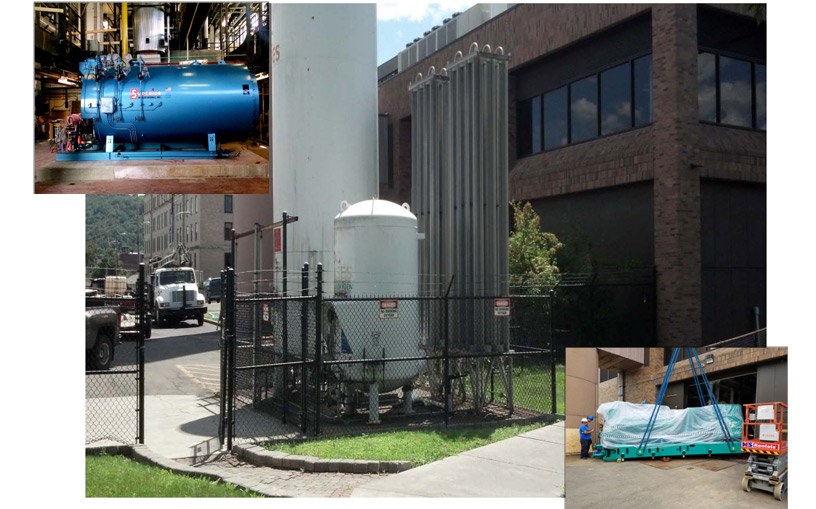 Guthrie Hospital – Sayre, Pennsylvania
Cogeneration Plant – 2 MW
Key Project Statistics:
Turnkey: Engineering & Construction
2 MW Gas Engine, Cummins
400 HP Dual Chamber Waste Heat Boiler
3,000 ft of Hot Water Infrastructure for Campus Heating Loop
Modification to: Steam Plant, Gas Infrastructure, Electrical Sub-Station
$6.3 Million Construction Cost
PA Act 129 Funds
Schedule: 8 months Engineering, 14 months Construction
Facility designed for 65 dba at 100 feet, required sound attenuation of building and exhaust silencers
Reference: Joe Zernell, Project Manager, Construction Department, The Guthrie Clinic 607-765-0422
Relevant Experience:
Engineering and Construction of Combined Heat & Power Plant
Hospital Microgrid
Island Mode with Manual Load Shedding Requirements
Black Start Capabilities
Strict Sound Requirement, Neighboring Residential Community
Guthrie Robert Packer Hospital selected Z&F Construction in a competitive bid to provide a new cogen plant at their hospital. The project was completed as a design-build project. Z&F Construction was the prime contractor and Z&F Consulting was the lead design firm. The plant consisted of a 2WM gas engine and a 10,000 lb/hr dual chamber waste heat/gas boiler. Z&F Consulting also modified existing electrical switchgear to allow for connection to the generator.
Z&F Consulting has the experience, knowledge and capacity to successfully complete an assignment in a professional, cost-effective, and timely manner.