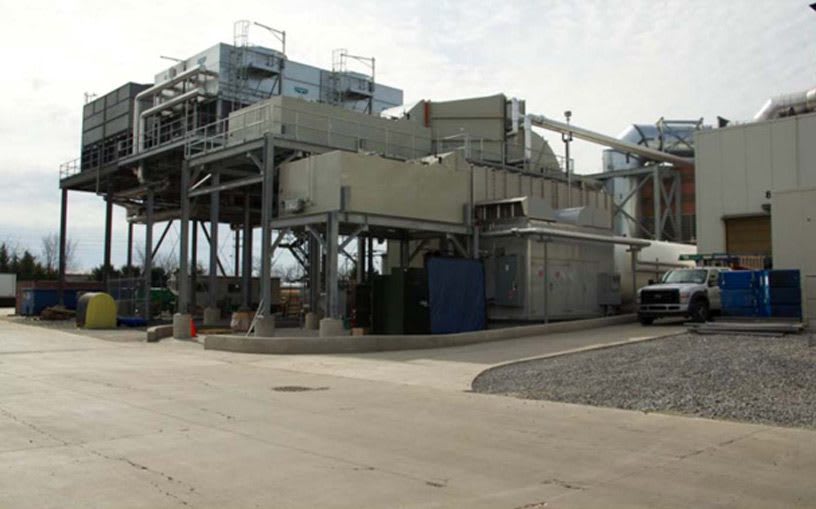 HP Hood – Winchester, VA
Cogeneration Plant – 15 MW
Key Project Statistics:
First campus project to become PEER (Performance Excellence in Electricity Renewal) Certified under the PEER v2 rating system.
Turnkey: Engineering, Construction Management, Commissioning, 5 yr Contract for Operations and Energy Procurement
15 MW Gas Combustion Turbine, Solar Titan 130
Dual 1,000 HP Waste Heat Recovery Boiler with Burner Gas
500 HP Natural Gas Compressor, JJ Crewe
Modification to: Steam Plant, Gas Infrastructure, 13.2v Electrical Sub-Station, Boiler Ancillaries, Cooling Towers
Allen Bradley, ZFED Automated ReD™ Microgrid Controller
Ammonia Chilled Water Combustion Cooling
Dual Stage Economizer for Process Hot Water Heating
600 Ton Hot Water Driven Absorption Chiller
$24 Million Construction Cost
Schedule: 14 months Engineering, 18 months Construction
Cost Savings after 1 year were within 5% of forecast, verified by Owner
Energy Engineer
Reference: Dennis McNutt, Utility  Manager, HP Hood, 540-735-7827
Relevant Experience:
Engineering and Construction of Combined Heat & Power Plant
Solar Combustion Turbine
Thermal Driven Chiller
Resilience Microgrid Controls for Islanding
24/7 Monitoring for Service Weather Alerts and Proactive Island Mode
Operation and Maintenance Contract
Energy Procurement Contract
HP Hood is a major dairy manufacturing company. Hood pursued a cogeneration plant to reduce their carbon dioxide emissions, increase energy savings, and provide electrical resiliency for their facility. Z&F Construction provided design-build services as the prime contractor. The plant incorporated a 14.5MW combustion turbine, two 30,000 lb heat recovery steam generators, and a 600 hp natural gas compressor. The project also included a new 13kV substation. This gave the facility the ability to operate in island mode.
Z&F Construction utilized Z&F Consulting as the lead design firm. Z&F Consulting completed the mechanical and electrical design from conception to completion. This project was able to reduce carbon dioxide emissions by 42%. The project is currently pursuing PEER Certification through the GBCI.
Part of this project was creating the interconnection to allow Hood to sell excess power back to the grid through PJM. Z&F is a PJM member, and has fully automated the process for when to operate the plant so that excess power can be sold at a profit. This also allowed Hood to operate the plant such that their capacity and transmission charges from the utility are almost zero. This resulted in significant cost savings for Hood.
Z&F Consulting has the experience, knowledge and capacity to successfully complete an assignment in a professional, cost-effective, and timely manner.